This article is intended to answer the most asked questions around the development of the new website and the transition to them. We will continue to update this article with new information as we continue the transition.
Why are you developing a new website?
The new website is in fact not that new at all, it was launched in 2016 as a result of the modernisation of the old mobile website. 20% of all use is on the new website.
We have seen a dramatic increase in the use of mobile platforms in recent years, resulting in Yr being used more on mobile than on desktop. Today's desktop version of the website is not intended for mobile use and that is something we want to fix. We are currently working on creating new content on the new website so that they can cover more of our users' specialised needs. We are also planning to replace today's website with the new one, but not until we are certain that it is ready.
The new website is designed with the user's screen-size in mind. Meaning it will scale and adjust to fit nicely on your mobile device or on your desktop. This way we can focus our efforts on a single web-solution that will deliver a good experience across all screen-sizes.
The development of the android and iOS apps will continue as usual.
When is the new website coming?
The new website is already available and you can check it out by going to yr.no on your mobile or yr.no/nb on a desktop. We are continuously working on the new website and updating it regularly with new content and functionality.
Why are you removing content from Yr.no?
Some of the content on Yr.no today is being run on older systems that will be shut down and updated. We are in the process of renewing content for the new website, and therefore not prioritizing old content that will be removed in the future.
We are constantly working on updating the new website with content and functionality that meet our users' needs and expectations. Today's desktop website has an extensive amount of content available, and our numbers show that not everything is equally relevant for our users. That's why we have to prioritize the most important and most used content first.
We might remove some content permanently, this is usually content that we can see is rarely used or it might be that it is becoming redundant due to new content that is meeting the same needs. It might also be more specialized content that is being delivered by other services that we can direct you towards.
Will I still be able to use today's Yr.no website?
You can still use Yr.no on your desktop. As the new website becomes more substantial it will replace the site you see today and we will relocate today's site to retro.yr.no, meaning you can continue to use it there. We are hoping that this will help our users adjust to using the new site. There might also be some content that we will not have on the new website that you can still find on the "old" one.
At some point we will remove the old website completely, but not until we are confident that the new site will do the job.
Where can I find "Snowdepths in Norway" from now on?
We are planning to release content related to snowdepth and other statistics such as temperature, precipitation and wind in November on the new website. This will only be for locations in Norway at first, but we are working on expanding it to other countries as well.
We are constantly looking for new and better ways to present our content on Yr.no. This means that you might find familiar content on the new website, but in a different format than what you are used to. On the new website you can find information on snowdepth on the "Statistics"-tab for the location you have selected.
Will I have access to "Observations" other places on Yr.no?
Observations and historical data is available on the new website now. Historical data is only available for locations in Norway. Here you can find observations from the nearest weather-stations to your selected location.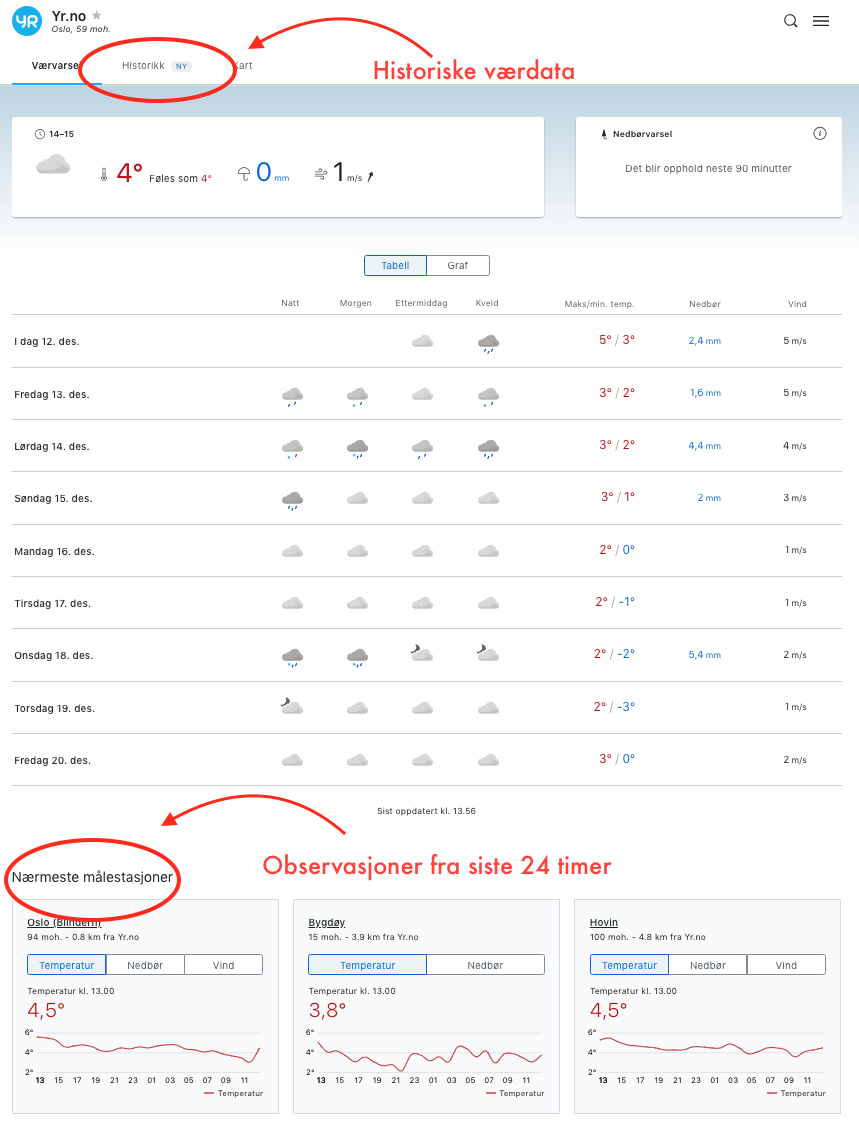 Why are you removing the meteogram with observations?
The systems that are delivering this graph is shut down and won't support this content anymore. We are currently focusing on creating new content on our new website that will meet the same needs.